Politics
Rutledge Announces Wanted Wednesday Campaign to Highlight Medicaid Fraud in Arkansas
LITTLE ROCK – Arkansas Attorney General Leslie Rutledge announced a new social media campaign called "Wanted Wednesday" in order to highlight the Attorney General's Office's most wanted individuals suspected of Medicaid Fraud. On Wednesdays, Rutledge will release a poster on social media featuring the name, description, last known location and a photo of the suspect, in addition to the charges the individual is facing. Anyone with information about the suspect should call the Attorney General's Office Medicaid Fraud Control Unit at (866) 810-0016.
"In the first four years of my administration alone, the Medicaid Fraud Control Unit secured more convictions than in the 16 years prior," said Attorney General Leslie Rutledge. "This is due to the hard work and long hours that the men and women of the Attorney General's Office put into investigating and tracking down those that take advantage of a system designed to help our most vulnerable."
Since 2015, Attorney General Rutledge's Medicaid Fraud Control Unit led by Deputy Attorney General Lloyd Warford has secured 174 convictions, 173 civil settlements leading to $66,791,963 in restitution, fines and penalties on behalf of the State of Arkansas.
"Thank you to Attorney General Rutledge for her leadership and commitment to prosecuting these serious crimes. This social media campaign will continue to highlight the important work of the Attorney General's Office," said Deputy Attorney General Lloyd Warford.
Medicaid fraud occurs when Medicaid providers use the program to obtain money to which they are not entitled. To report Medicaid fraud, abuse or neglect in nursing homes or Social Security disability fraud, call the Attorney General's Medicaid fraud hotline at (866) 810-0016 or submit a complaint online.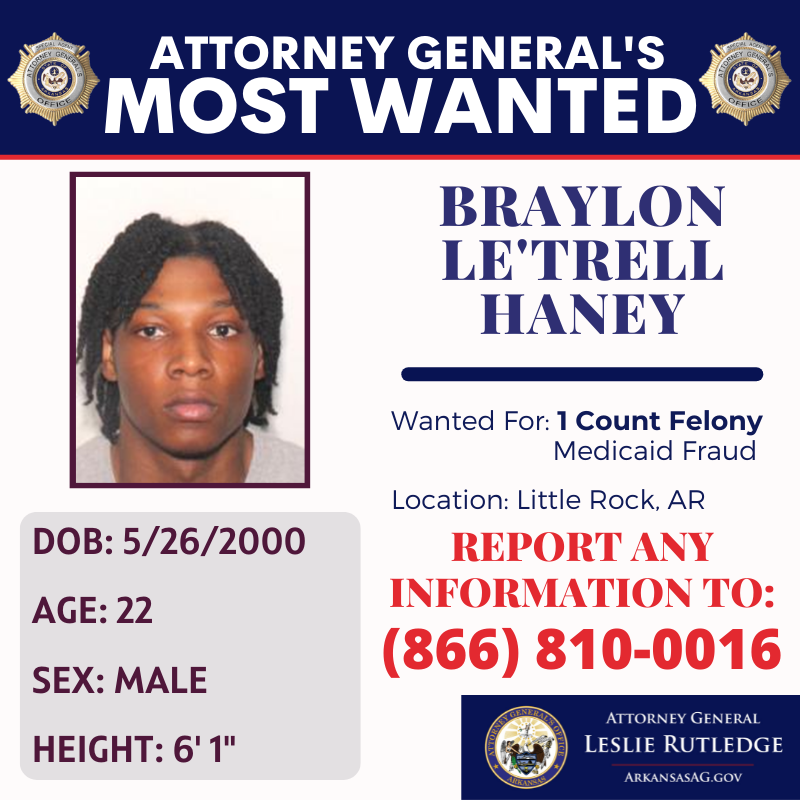 About Attorney General Leslie Rutledge
Leslie Carol Rutledge is the 56th Attorney General of Arkansas. Elected on November 4, 2014, and sworn in on January 13, 2015, she is the first woman and first Republican in Arkansas history to be elected as Attorney General. She was resoundingly re-elected on November 6, 2018. Since taking office, she has significantly increased the number of arrests and convictions against online predators who exploit children and con artists who steal taxpayer money through Social Security Disability and Medicaid fraud. Further, she has held Rutledge Roundtable meetings and Mobile Office hours in every county of the State each year, and launched a Military and Veterans Initiative. She has led efforts to roll back government regulations that hurt job creators, fight the opioid epidemic, teach internet safety, combat domestic violence and make the office the top law firm for Arkansans. Rutledge serves on committees for Consumer Protection, Criminal Law and Veterans Affairs for the National Association of Attorneys General. She also served as the former Chairwoman of the Republican Attorneys General Association.
A native of Batesville, she is a graduate of the University of Arkansas at Fayetteville and the University of Arkansas at Little Rock William H. Bowen School of Law. Rutledge clerked for the Arkansas Court of Appeals, was Deputy Counsel for former Governor Mike Huckabee, served as a Deputy Prosecuting Attorney in Lonoke County and was an Attorney at the Department of Human Services before serving as Counsel at the Republican National Committee. Rutledge and her husband, Boyce, have one daughter. The family has a home in Pulaski County and a farm in Crittenden County.